Buying and Owning Texas Ranches With Water Features
Posted by Harold Koehler on Wednesday, January 6, 2016 at 7:13 PM
By Harold Koehler / January 6, 2016
Comment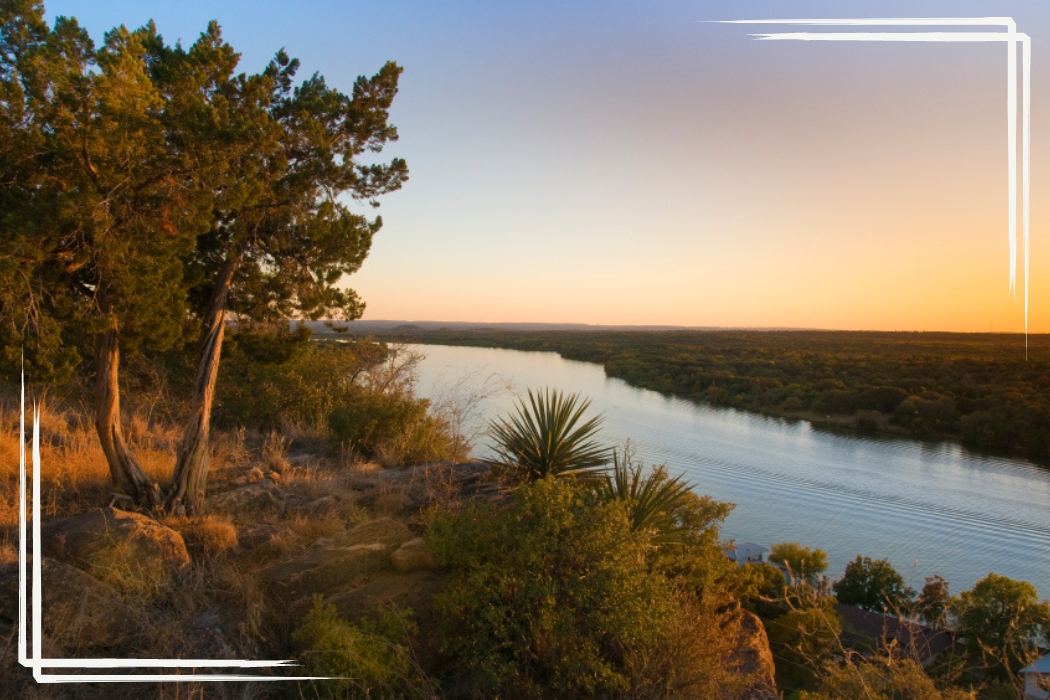 Advantages of owning a ranch in Texas with live water features
If you are thinking about investing in a Texas ranch land in the Texas Hill Country area, you probably should consider including in your investment plan finding a ranch that has some sort of surface water. Land without water features and surface water can be a good investment and might meet your needs. However, owning a ranch land in Texas that has either a pond, lake or even live water in the form of a creek or river is something that can be very special on many levels for the owner of a water property.
The beauty of a live water property with strong flowing water in normal rainfall years is hard to deny. It provides an extra bank for the buck in the form of recreational opportunities that are available for the owner. Owning a ranch with strong live water offers the owner, friends, and family the ability to swim and fish and take advantage of a more diverse ranch. Often live water ranch owners will have a dam built to enhance the surface water features. Sometimes, depending on the amount of live water frontage that is owned and the topography of the land and water frontage, an owner can build a dam and create a larger lake and still maintain an active natural flowing creek to keep the natural look of the creek. It all depends on what an owner is looking for and their preferences for how much they want to develop the water frontage.
There are other reasons that a surface water or live water ranch is a preferred choice by the majority of those searching for a ranch property. Owning a ranch with surface water or live water provides a more productive environment for game and the support of game for those that either enjoy hunting or even just having the enjoyment of having a ranch with a variety of animal life. Having live water or surface water is not only a feature that provides recreational value and enjoyment, it also helps in relation to maintaining the property tax relief that is in the form of agricultural or wildlife exemptions. Surface water or live water is a real plus when you consider both having an agricultural operation or wildlife exemption. Water improvement is one of many ways to help advance the opportunities related to wildlife management exemption.
What choices of live water do you have on Texas ranches?
When comparing live water opportunities, there are certainly differences in the type of available live water. Some prefer creek frontage to river frontage because of the ability to build a dam on a ranch if the owner has both sides of the creek and enough frontage to build a dam without backing up the water on the neighbor's property. While some creeks are very strong, you might prefer a river frontage property because of the strength of the flow of most river frontage compared to the creek property. It just all depends on what is each individual's preference.
Get the advice of a professional dam builder
A couple of noteworthy points are that you should consult with a professional dam builder if you are considering building a dam on a property you own that has a creek. If you are considering buying a ranch or land for sale in Texas that has a creek that you want to dam up, or even if you have a potential opportunity without a creek that you are considering building a dam in a spot that could create a lake from runoff, you should consult with a professional dam builder. If you are planning on having a dam built, and you are looking at specific properties that you believe you can do it, then I would suggest getting the dam builder of your choice out to estimate your chances of being successful and do it during your option period, so if it doesn't fit your needs, you should be able to still terminate the contract if you are in the option period and exercised in accordance with the contract. The Texas Real Estate Commission always recommends in the standard contract that the contract is a legal contract and serves as a reminder to obtain legal advice in those matters.
In comparing the ranches with creeks versus the ranches that have river frontage, you might be able to build a dam on the creek properties, but it is highly unlikely that you will ever be able to dam or effect river frontage. Most of the time, it is rare to own both sides of any river frontage as compared to the chances of owning both sides of a creek. There is a possibility where a river frontage property might have a dam on it that is grandfathered, but the chances of an individual building a dam on a river are subject to more restrictions and extremely unlikely. If you are going to build a dam on a creek, I suggest you make sure that the professional dam builder you hire can confirm both the probability of successful construction of the dam and that the approval for the construction can be obtained.
How does live water affect Texas ranch prices?
In closing, you can expect to pay a significant premium for purchasing a ranch with surface or live water on it. Depending on the quality of the water features and, of course, the other features of each particular piece of land, you might pay 50% or 100% or more for the right live water ranch. In closing, it is an important consideration to remember that there are much fewer live water properties than there are properties without surface or live water. The rarity factor alone plays a significant role in the pricing differences.
Enjoy your search for that ranch that you have been dreaming of owning and give us a call if you need a help!