Homeowners' Top 9 Regrets and How To Avoid Falling Victim
Posted by Harold Koehler on Sunday, June 30, 2013 at 5:13 PM
By Harold Koehler / June 30, 2013
Comment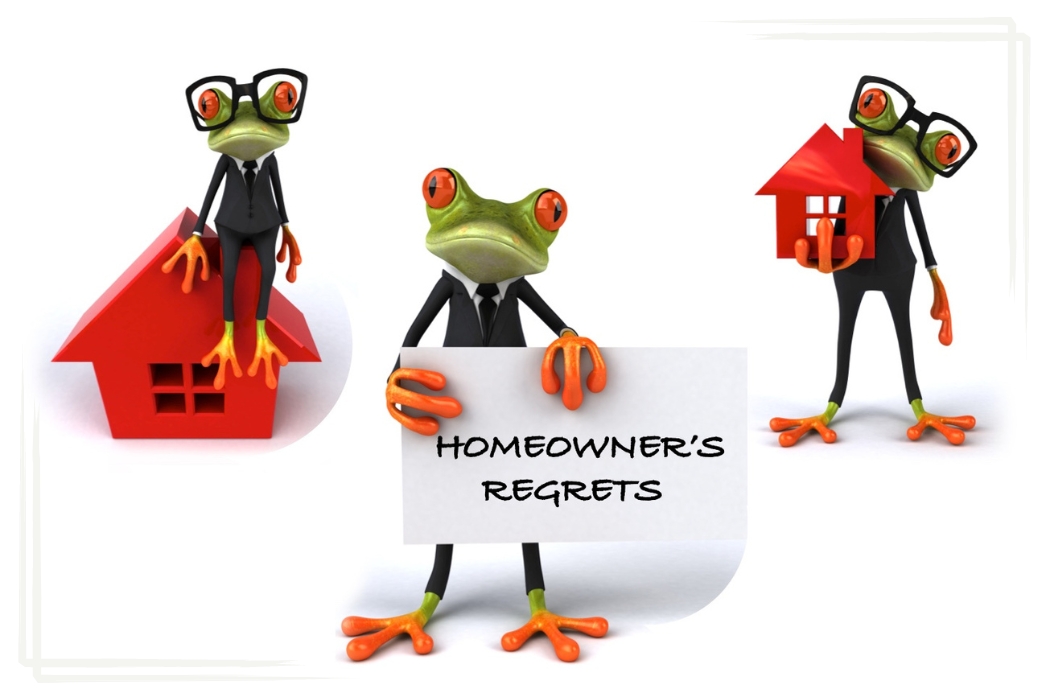 Buying a new house is always an exciting phase in one's life. There is no greater sense of accomplishment than knowing that you now have a place that you can call home, and all thanks to your hard work and financial sense. However, some years down the line, you may realize that you might have rushed into making a decision. This can definitely dampen your spirit, considering the amount of investment that goes into purchasing a home. If you are in the process of acquiring your very own piece of real estate, you are better off learning from the mistakes that others have made. This way, you will not fall victim to the very same. Here are the top nine regrets that homeowners have and tips on how to avoid them:
1. I wish I had bought a bigger home
Most people buy houses when they are young, say when they have just gotten married. At this point, they do not have a lot of money, so they are likely to settle for a smaller home because it comes with an affordable price tag. Later on, after the children arrive, for instance, they realize that they need a bigger home. If you are about to buy a house, try and think of what the future holds for you. If children are in the picture or if you anticipate needing more space, for example, a home office, you might want to postpone the purchase until you can afford a bigger home. If your in-laws will be joining you in your new house, you should get a house that has extra room for them.
2. I wish I had gotten enough information about the house before signing on the dotted line
Real estate is a sensitive and dynamic market. You cannot afford to invest in real estate without being 100% informed about the purchase you are about to make. There are also less than scrupulous people that are more than willing to take advantage of you if you do not keep your eyes open. Homeowners regret not asking their real estate agents certain tough questions, such as whether the house had structural issues that would constantly demand attention, the estimated annual cost of maintaining the house, and so on.
Whether you are buying a new home for sale in San Antonio for the family or just a piece of land for sale in Texas, do not part with your money until you are convinced that whatever you are getting is worth every cent.
3. I wish I had waited until I was financially secure
Yes, buying a home is a great step and everyone's dream. But that does not mean that you should rush into it before your finances are sorted. The decision to invest in real estate should be arrived at only after you are certain that you can afford the financial responsibilities that come with such a purchase. If you do decide to buy a home and you are not yet ready, you will be forever haunted by mortgage bills and property taxes and who knows, maybe even foreclosure.
4. I wish I had shopped around for a better mortgage
Speaking of mortgage bills, the worst thing that could happen to you as far as mortgages are concerned is to get approved by a certain lender only to realize that another lender has better terms when it's already too late. Take time to shop around for the best mortgage terms, and you can look forward to enjoying your stay in your new home.
5. I wish I had paid a larger down payment
It is better to wait until you can afford to put down a larger down payment when buying your house. The benefits of having a larger down payment include paying lower mortgage payments and enjoying lower interest rates. In the event of a financial storm in the future, you may be better equipped to handle the crisis if you had already put down a huge down payment.
6. I wish I had worked with a different real estate agent
Whether you are house hunting in Texas or anywhere else in the world, you cannot afford to do it without a real estate agent. A real estate agent is a trained professional in the business of buying and selling homes. They make your work easier, or at least they should. As with mortgages, shop around for a good real estate agent. Make sure to ask for referrals from the agent of clients he has serviced before. You should also read reviews on sites such as Yelp, Citysearch, Local.com etc to find out what others have to say about their experiences with the agents. Before you make your final choice, call different agents and ask them questions. Their answers should help you determine whether they are knowledgeable about the area.
7. I wish I had researched about the neighborhood
There is nothing wonderful about living in a house that you absolutely love but in a neighborhood that you completely hate. It sucks the soul right out of you. Before you seal the deal on your new home, take time to learn about the neighborhood. Find out about the crime rate and the type of neighbors that you will be living with. It is as simple as conducting an online investigation and talking to the neighbors. If they don't seem too welcoming, you might be in for a hard time. You should also find out whether the neighborhood is in close proximity to social amenities such as hospitals, schools if you have kids and transport links. A neighborhood with a buzzing nightlife may not be the best choice if you fancy quiet, relaxed evenings. Other things you should find out about the neighborhood is how much homeowners are required to pay as a Homeowners Association Fee, as this might be quite high in some neighborhoods. Similar houses may fetch different values during appraisals depending on the neighborhood they are located in. When buying a house, find out what role the neighborhood plays in the final value of the house, as this could save you a lot of money in the long run.
8. I wish I had borrowed less against my home
As a homeowner, when you are faced with a financial emergency, you might need to ask for a loan from a lender with your house as collateral. Before you make the decision that puts your house at risk, you should get advice from a professional so that you know the right amount to borrow against your home.
9. I wish I had understood the kind of commitment that is buying a home
Some people think that buying a home is as simple as pointing out the most beautiful house on the block and paying cash for it. It does not happen like that. Buying a house is hard work, and house hunting is just half of it. You have to deal with mortgage, insurance, remodeling, and other forms of bureaucracy that will exhaust even the most diligent homeowner. Even if you have enough money to pay cash for your dream home, you need to understand that by buying a house, you are getting yourself into a life-long commitment.
If you are in the process of shopping for luxury homes for sale in Austin or San Antonio area or ranch land for sale in the Texas Hill Country and other neighboring areas, visit PrimeRanchLand.com to get in touch with experts in the field, dedicated to ensuring that every time you make a purchase you get your money's worth.